After having my first happy purchase from Zalora Philippines, I signed up with their Brand Ambassador Program (BAP) where I am given a 15% discount voucher/coupon code. This can be use by a friend or a reader like you when you decide to sign up and buy something from Zalora. Basically, you will be under my referral list as I am the one who lead you to be Zalora's client since I am an ambassador. Ambassador. That' sounds good! 😀 In return, I will have a small amount of commission while you get 15% less on your order. Is is that easy! No strings attached. And please do not ever doubt or think that I will add an amount of money on top of your order just to increase the commission that I will get! I can't do that and even if I can, I never will!
Check out: My first experience with Zalora here: Zalora PH Shopping Review: A First Time Buyer Experience | My one year story being with Zalora BAP Progam: https://www.spideylab.com/stories/perks-zalora-brand-ambassador/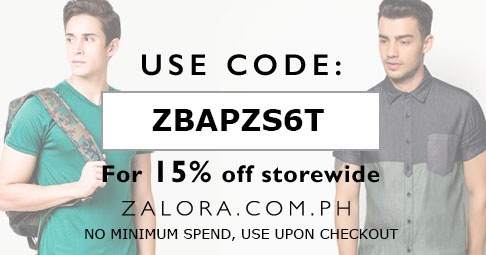 Here's the Voucher/Coupon code: ZBAPZS6T
This code does not require any minimum spend. Input the code upon checkout and make sure you get the 15% off before placing your order. Please be advised that orders below P995 has an additional shipping cost of P100 for nationwide delivery. Also, it is best to order an item more than P995 because this code can only be use once per customer. Be clever!
Note: You can not use your own BAP code. And I do not think it is even possible to have one if you are not yet a Zalora customer. 😛 Oops. I should also remind you that there are brand exclusions from this promotion like Nike and other non-sale items listed here.
Enjoy! I hope you'll be delighted with Zalora's service. And who knows, you might be really happy with your first purchase and be a Zalora Brand Ambassador like me! Just in case you weren't happy with your purchase from Zalora (I hope not since I will be a failure. *cries*), you can simply return it to them due to their friendly 30 day return policy. It is much longer than physical retail stores' return/replacement period, actually. Just initiate a return and ship it back to them through their courier partner for free.
Check out my first experience with Zalora here: Zalora PH Shopping Review: A First Time Buyer Experience
My one year story being with Zalora BAP Progam: https://www.spideylab.com/stories/perks-zalora-brand-ambassador/