So yes. I reconsidered myself on having an Instagram account. I am already thinking about this stuff in the past months. Finally, I had an account setup. Actually, it never came up into my mind instantly but someone urged me to create one. This friend of mine really convinced me that Instagram or IG is really different from Facebook. And, I should know the beauty of photos that speak for themselves.
Why I do not Instagram Before
I remember the only reason why I do not have an IG account. It is because it requires you to register through their mobile app! This is a little bit a hassle for me since I usually use my laptop when visiting Facebook before. I just hate apps because it slows down my aging phone. HAHA. And, we do not have WiFi connectivity in our household that time. So yes. That is much of an explanation.
Anyway, I have my Facebook and Twitter account since 2009. But, I mainly use Facebook and my statuses were automatically tweeted on Twitter. I am not that "tweet lover" person so I am not really into Twitter. I just loving facing the book. I mean, Facebook. So as I already mentioned Facebook and Twiiter, it will be unfair if I will not mention Google+. I do also have a Google Plus account but I rarely use it. I  can't even remember whether I already posted something on my account. All I know is that I have followers – who also do not use their Google Plus accounts. 😛
Instagram as a Social Media
Unlike Facebook that can now be considered as an all-in-one platform for everything you need (Yeah. Seriously, one notch behind Google, FYI), Instragram focuses on bold photos and videos meant for social sharing combined with the lovely "like" feature presented as a heart icon. Like Twitter, it utilizes the "Follow" button instead of adding someone as a friend. So, you can follow someone to see the photos that they share privately to their followers but it doesn't mean that they also see yours. The process on a follow request should be done to make it possible. Hence, the phrase "follow back". Otherwise, people who opt to make their IG profile public will not see a follow request. Instead, anyone who click the follow button will automatically gain access and view the feeds of the profile being followed. With that, Instagram is a real gem for celebrities as Facebook is unfit for their necessities. However, there are fan pages in Facebook but I found Instagram to be a more enticing medium for mobile photo sharing. Instagram is also being run by the guys behind Facebook since they acquire it from Burbn, Inc in the year 2012. The Instagram mobile app and the idea itself were originally authored by Kevin Systrom and Mike Krieger. I think Facebook see it as a potential competitor for the wolrd's no. 1 social network so they just bought it for $1 billion USD instead. 😛 Obviously, Facebook and Instagram work hand-in-hand to fulfill the addiction of people on sharing their lives. HAHA. It is now normal to see a "via Instagram" note on statuses and photo shares on Facebook since the two is well integrated (Also with Twitter and Tumblr, etc.).
My Instagram Journey
I registered for an IG account last June 4. It is now June 9 and I already have 11 photos posted. It is quite addicting, I should say! Here's a screenshot of my IG profile viewed on a desktop: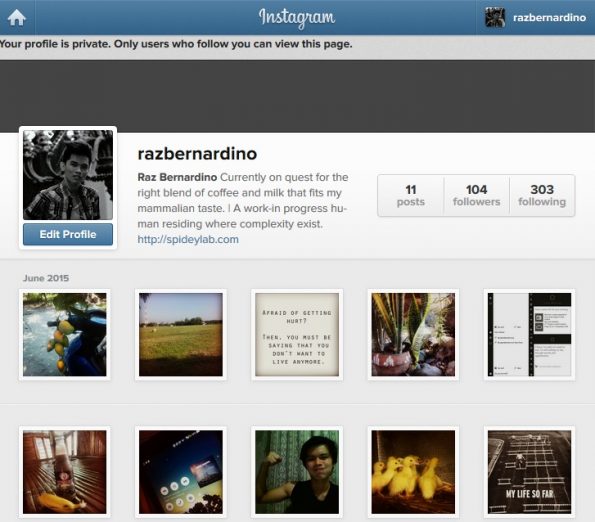 They say that IG is a huge archive of selfies of vain people. But I think there is a wide range of photos that can be posted with IG. Not only selfies. Photographers, designers, bloggers, and entrepreneurs also use Instragram to show their talent and works. Instagram is a real flexible platform that can cater your personal needs and even on doing business.
June 10. Ow! Instragram's design just got a revamp! Loving its minimalistic design today. 😀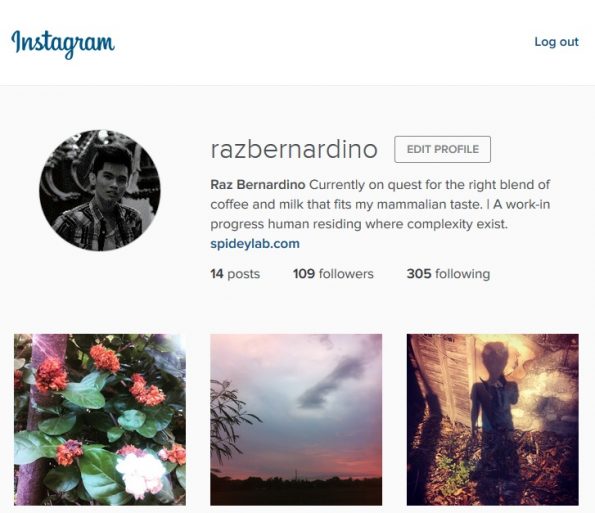 I just hope that people I followed will follow back. LOL. But, I am not requiring them – I am just hoping. Oh yes, before I forgot. Follow me at instagram. 😀
My Instagram Feed:
This error message is only visible to WordPress admins

Error: No feed found.

Please go to the Instagram Feed settings page to create a feed.