Are you looking for some ways to earn money online? Viewfruit might be the answer in your question.

Viewfruit Philippines
I discovered Viewfruit a month ago in my favorite forum. It is a website that offers alternative way of earning money online by just answering surveys. At first, I am hesitant to try it since it might be just the same as other survey sites that do not pay well or even worst, does not even pay. However, I see viewfruit as not just a plain site where greedy people who want money would be found. It is like a community that members share their insights, things they love and also teach others on how they achieve something. These things encourage me to try Viewfruit.
Register a Viewfruit Free Account Today.
After signing up, Viewfruit will encourage you to complete your profile and other information that will help them to show relevant surveys for you to answer. After that, surveys will instantly appear in your account dashboard. Viewfruit awards points from 100 to as much as 500 per survey. These points can be redeemed to cash when you reach atleast 1500 points which is equivalent to USD 3. This is easy to reach if you are active and dedicated on answering surveys. But do make sure that answer surveys honestly because you might caught on your own wrong doing. Why? Because some questions were repeatedly asked from you. These includes basic information like gender, location and age. Be careful on stating facts or else Viewfruit will not reward you the points you earned.
Payment Proof from Viewfruit/Paneland
I am able to be paid for my first 1500 points via Paypal a week ago. The reward process (or Payout process) took 10 days from request. This is a bit long waiting for just 3 dollars. I then find out that Viewfruit is currently upgrading their service with Paypal. As of now, I'll be rewarded for another 3 USD when my temporary points were approved. Temporary points are earned points that is pending until the survey campaign has ended and viewfruit successfully verified the legitimacy of your answers in the survey. When the verification is finished, you can redeem the points as usual. Reward ranges from 3 USD to 50 USD.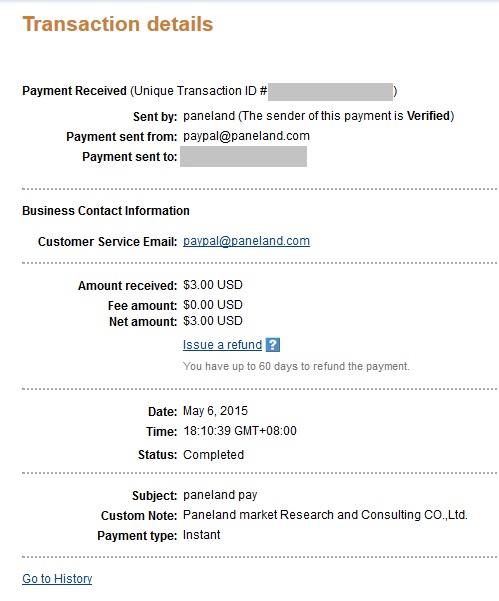 You can earn much more than 3 USD in Viewfruit. Definitely. I am just lazy and did not completely accomplished my profile. So other surveys are not being offered on my dashboard. I am also skipping offers when I am not interested. 😛 I have other things to do in my priority list. 😀
Viewfruit can also serve as a past time when you are on your free time. Surveys do ask for opinions and are mostly clicking of buttons and checkboxes. With a little play, you will get paid. Ready to earn some spare money? Click here to join Viewfruit.
Viewfruit can be access on desktop and mobile. They also have an Android App but I haven't tried it yet.