It seems like Lazada not only makes online shopping hassle-free but loading both our feature and smartphones too!
Step by Step Loading via Lazada Mobile Recharge here.
Buy Load via Lazada
This feature is going around as beta on Lazada for a few weeks now. Now, it is officially integrated throughout Lazada's website. It is called "Quick Top-up". Basically, it requires you to input your Smart, TNTor Sun Cellular Number and choose what load denomination you'd like to buy.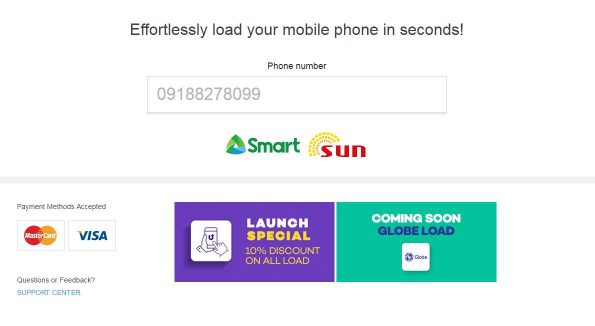 The service is launching with a special 10% discount on all load denominations. The available payment methods for now is via Mastercard and Visa Credit or Debit Cards, it is accepted even your card isn't a credit card as long as it has the Mastercard or Visa card logo on it such as re-loadable prepaid cards.
You can buy load using this link: http://www.lazada.com.ph/mobilerecharge/ or just go to Lazada's website then click the "Load Banner" on upper right corner. As of this writing, loading via Lazada Mobile App is not yet available.
Step by Step Loading via Lazada Mobile Recharge here.
Smart, TNT, and Sun Cellular Load
I've tried the service myself to load my mother's Sun Cellular phone and it works as expected. Really "effortlessly load your mobile phone in seconds!"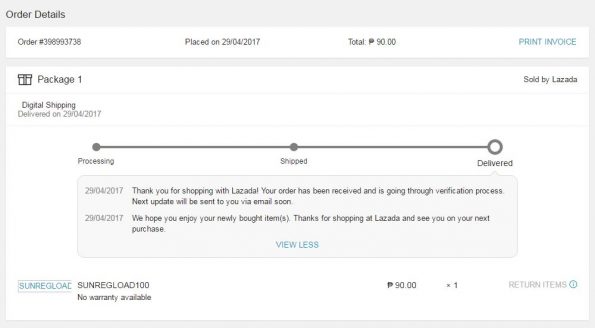 Transactions are posted as regular orders so you can view them in your Lazada account. I hope more packages/promos will be integrated in the service soon.
Globe and Touch Mobile Load
Globe and Touch Mobile load credits isn't available yet.
Update as of May 18, 2017: You can now also load your Globe/TM prepaid number via Lazada.
Globe Load Now Available in Lazada Mobile Recharge