This is a honest 4 1/2 month review for the web hosting service rendered by Network Panda.
The Story
Months ago, I am looking for a cheap web hosting service to run my blog. Since at first, it is not that serious experiment, I do not want to spend much money for it. So, as you may guess, I want to pay less as possible. I had known about the forum site WebHostingTalk (WHT) wherein various hosting providers posts their respective hosting offers or advertisements. Providers offer hosting services from share hosting, virtual servers up to dedicated hosting service. Of course, I opted to look for shared service since it is the most ideal for starters like me. Some offers are so good to be true and you'll greatly wonder how such host can offer the service with an incredibly low price. One dollar ( USD 1) per month hosting is typical, and others for about two to three bucks. These prices are reasonable and still profitable, given that payments terms are on a minimum of quarterly billing (Paypal fees will be reduced this way). However, I saw an ad (or many ads) from a provider named Network Panda. They are offering a one year full shared hosting service for only USD 6.42! That is only about fifty cents per month, for the lifetime of your account! That looks weird of course, not mentioning here that VPS and dedicate server offers are always out of stock. Why put those options there if they are really not available already for months? But, I had checked the reviews and the company seems to be real and good.
So, I decided to try Network Panda's service and signed up to them. I chose the one year plan for the discounted price of USD 6.42 for a 5GB SSD disk space, and other features that are almost unlimited (they claim, it is unlimited but who will believe that) and can be barely reach. For information, a regular and lowest plan with Network Panda will cost $1.98 per month. However, no one who is that stupid will pay $1.98 since the coupon code for lifetime discount is posted right above the plan offers.
Let's see how things went.
Actual Experience
Note: If the guys in Network Panda is/are reading this, I would like you to know that these are my insights regarding your service, you guys are good but the service itself should be improved or at least make a way to offer real shared hosting resources even with a higher fee. An option, in short.
May 20. I migrated my wordpress blog by myself from my old free hosting service. Migrating is easy and my blog is running in no time. The Netherlands server I chose was pretty fast and way better compared to a free hosting service, of course.
Below are the minor issues I encountered with Network Panda:
Cloudflare Integration
The first issue appeared just a day after the migration. I am having problems on testing sites that they can't detect that I am using a CDN (Cloudflare). I contacted the support of Network Panda regarding this issue. I almost lose my temper because I did not get any reply with my ticket for more than 24 hours. That is way beyond the 10 minute claim! The support team finally responded when I sent a new ticket. Is that really needed for them to act accordingly? Anyway, they keep insisting that I should contact Cloudflare support for the issue since they are not the ones managing the DNS and Cloudflare is a third party service. Which is in fact, they are the ones managing the DNS since I am using the nameservers they had given me that time. Anyway, they have a point with this since Cloudflare is indeed a third party service, I should contact the said company for support. However, the fact that they integrate Cloudflare to their platform, they should have at least a good answer for my question.
I had resolved the issue by myself by directly using the nameservers provided by Cloudflare in replace of their nameservers. Later on, I discovered that Cloudflare CDN doesn't work on the root domain when it is setup through a hosting partner. This is due to a rule implemented throughout the internet that Cloudflare follows. So, the blame is on me not researching for a solution. But still, my first experience for support is awful. They don't even apologize for the late response.
Varnish Cache Issues
This issue happened to me numerous times wherein my blog pages were being cached by Varnish. However, resolution time regarding this issue is pretty fast and service returns to normal after a few minutes. Somewhat, I salute the support team this time. I guess, all tickets should be mark with "High" priority for them to respond accordingly.
Disappearing Plugin
I am using a WordPress plugin called "Autoptimize". This plugin is mysteriously disappearing on the plugins menu from time to time. I have to install it again for it to be active. I contacted support, thinking if the said plugin is not allowed to be use.  They say that it is allowed and other customers do not have any problems. Rather than investigating the issue, the customer service rep advised me to contact the plugin developer about the issue and also check for possible conflict with other plugins. Again, this is a mystery because right after sending the ticket (and receiving a response), the plugin since then did not disappear again. I do not change my setup nor remove any other plugin that may be a possible conflict with Autoptimize. How can someone explain this disappearing plugin phenomenon? Then suddenly, it stays put there? No wordpress or plugin updates happened, whatsoever. This is basically, a denied hosting issue.
Despite of these minor isssues, my experience with Network Panda is still pretty good since they offer good uptime and my blog barely go unreachable. It is a 99.9% uptime guarantee, indeed. Website loads were really fast, thinking that you almost pay for nothing per month. Unfortunately, the good things go into havoc starting on the first week of August.
Server Outage
August 7. Network Panda suffered a major downtime in many of its servers. It is due to an upstream provider, Choopa/Vultr that terminated their hosting accounts. On this situation, I then figured out that they don't really own their servers (or at least have a real dedicated server). In reality, they are just renting a VPS and make it work on a shared hosting. This is in fact, a dishonest claim from them. I can confidently say it since Vultr is a cloud hosting provider and they don't provide dedicated servers (Well, you can setup or deploy a server with a similar specs with a dedicated server. But I doubt that Network Panda is using that.). That explains why the prices are so low and so good to be true. It makes me wonder too, if what plan are they using to provide the service. The whole story about it, together with the missing backup dilemma is elaborated in this post.
Service After the Outage
Horrible Speed and Response Times
My account was transferred to a new server in France provided by OVH. An additional one year of free hosting service was added in my account (Feels good, yeah?). At first, it works fine as how the Netherlands server from Vultr performs. After a few days, I encountered horrible speeds and numerous failure on uploading images for my blog posts. I tried to have more patience with it since the host suffered from a big disaster, and load spikes are expected since website owners are busy managing their website/s to restore full functionality.
Normal speed and response time returned after a week.
CPU Usage Suspension
After about two weeks, my account has been consecutively suspended two times for utilizing more than the allowed 30% CPU usage. This is weird since we all know here that a normal wordpress installation should work well in a shared hosting environment. I barely have 200 visitors with about 300 pageviews a day and my articles are being cached by Super Cache. Not mentioning that I am using Cloudflare too. For what reason is that I am reaching the CPU limit this time when my setup stays the same. I contacted support each time it happens and they say I should optimize the code of my website. They make me guilty too that I am causing damage to them and to other customers. WTF. That visitor count is too much for a shared hosting? Come on. I only have a single and simple blog site with that low visitor count.
I convinced myself after the two suspension instances that I might be utilizing the said CPU (up to 60% usage as they claim) since I am designing my blog from scratch after the outage. Just to be safe, I signed up with a new host and prepared a backup solution so as it should be easy for me to migrate when the need comes, since this time my blog is getting serious and I should be ready for any recurrence of what happened in the past. Also, for testing purpose, I ordered a new account from Network Panda on a separate server.
Unable to Login to WP Dashboard
It feels like the OVH server has many problems. This is not good since it has given me headaches and consumed a lot of time. From time to time, WordPress doesn't allow me to  login on my blog and just returns a Cookie is disabled error. I do not know the reason for this but it started when I am transferred to France OVH server (virtual server, I assume). But, I am pretty sure it is again a hosting issue since I did troubleshooting like deactivating all plugins, deactivating cloudflare, and the like.
This issue can be resolved by contacting support again and sometimes, login will just return to normal after few hours.
Disabled Cron and Statistics
I am dependent on WordPress Cron Jobs since I am using a backup plugin to send my backups to my Dropbox account. So, I found out that they are forcing the WordPress installation to deactivate Cron jobs by inserting the lines define ('DISABLE_WP_CRON', true) to wp-config.php file. I am removing it manually from time to time just to make the backup work. Awstats and other statistics report in CPanel doesn't work. Atleast on FRA5 server, which is weirdly labeled as FRA3 in the CPanel. They claim they support Cron jobs but why is it frequently and automatically deactivated? I do not bother to consult the support again since they will only send me a message that makes me feel it is my fault.
Frequent Downtimes
Downtimes lasting for more than an hour per month is acceptable. But, it is becoming more frequent as time goes on. Tons of announced service upgrades here and there (which can be viewed as a good thing, though), then sudden short random downtimes. Whichever the case, this is not healthy for a growing blog. So, I am seeing alternatives for my blog to go through. Until the incident last October 2 happened.
CPU Usage Permanent Suspension
October 2. I received a notification in my e-mail telling me that my account is about to be suspended due to high CPU usage. I can't think of any reason for this since there is no traffic spike and I am not doing changes on my site. In fact, I haven't visited my blog for almost a week now (I am checking the traffic stats through analytics). So, just to check, I navigated to my blog and found it to be still online. No worries. But, I am wrong. I discovered that I've been suspended again that day due to high CPU usage. I checked the announcements and found out that there is a MySQL server upgrade that happened inline with my high CPU usage. Maybe, it is the cause (No matter how it is impossible). So, I contacted the support team again but instead of removing the suspension, they told me that my blog will not be hosted on them and I should look for a new host. What the. Very good tactic Network Panda! You had given me a one year of free hosting service after the damaged you have done to me then what, you are now about to terminate my account? I did not respond to the ticket since I don't want to start a debate that will only lead to nothing. Rather, I initiated a transfer of my blog to a new host (The one I tested a month ago). The transfer is easy since I am using Updfraft Plus plugin and Cloudflare's nameservers (Tip: It is way more easy to switch between different hosts due to short TTL values of Cloudflare DNS). My blog is up again in a matter of a hour. I will not bother to explain myself again to Network Panda since it is so obvious that they wanted to terminate my account by implying very strict "automatic" resources limit.
The True Network Panda
I do not believe that I am allocating more than the 30% CPU usage of whatever that CPU is, let's say a 30% of a single core CPU. If it is 30% of 10% of a single CPU core, then it will be possible. Then why they should claim that they are using Intel 8-16 CPU cores with 8-32GB ram per server? To provide service for 2500 customers with high traffic sustainability?
Also, I found some suspicious information on their website:
They claim that they are providing service locally in UK since 2002 and they are formerly known as NWIS. In 2010, they rebranded their service to Network Panda. If you are doing this, you should make a way that history or more information about NWIS is accessible for future customers. For me, the acronym NWIS deals with a water system. The old website should be still accessible, as the NetworkPanda domain is registered only on December 2011. http://whois.domaintools.com/networkpanda.com
2. If you navigate to their network status page and carefully inspect and monitor the live widgets of Status Cake, it is not a real 30 day report but instead a 24 hour report! Why should a serious web hosting company, claiming that they are providing service since 2002 will do such thing?
3. There is a EU VAT ID information found on the footer of the site. However, I can't get a way to check if the company is really registered, the VAT ID does not exist in EU Tax System. (Unless I am doing it wrong. If it is registered, please let me know.)
4. As what I'd said from the beginning of this post, VPS and Dedicated servers are always out of stock for a long time. I am checking it time to time for the past 4 months, they are always on the same status.
5. The website has not been updated for a long time, information such as about the data center locations are not accurate.
6. The testimonials were so old to rely on. There are reviews found on hosting review sites but I can't rely on their genuineness.
Conclusion
After about two to three days, they terminated the CPanel account (only the account handling this blog before) and refunded a prorated amount of unused prepaid credits to my Paypal account. This act is pretty good since they are not into that money. As of now, my test account is still active on them and it should never be suspended since I do not really use it. If it get suspended, then Network Panda is only for static websites.
Right now, my new host is happy to serve my blog pages with very low CPU footprint. I haven't change anything, this is an exact clone of my blog as how it was in Network Panda. Also, my traffic analytics app is also hosted there. Basically, there are two applications running on a single cheap web hosting account again (but way pricier compared to Network Panda). This new host is way more transparent than Network Panda since it provides historical graph and info about resource usage of my hosting account (Unlike Network Panda that just have a CPU usage monitor that refreshes every 5 seconds and do not retain any historical data). I hope this host will not let me down. If that happens, there are still other hosts to try.
Am I recommending Network Panda?
Unfortunately, no, if you will be running a serious website that should be always reliable. On the other scenario, Network Panda is a good place to start your experiments or to learn about shared hosting, etc. It is very cheap and a month of subscription will cost you only a fraction of a price of a cup of coffee from your favorite coffee shop. Nothing that great to lose, if in case the same thing will happen to you.
I just hope that Network Panda will stick to the 1.98 USD per month fee for shared hosting and provide adequate resources to run a functional website or blog. The guys there are good but the service is not so good. Just to be fair, the first half of my experience can be considered good but the other half is different.
Please do note that I posted this article about my experience with Network Panda to help people decide whether they want to try the service or not. And yes, you can't expect a premium service when you almost pay for nothing but there is no big deal to try these kind of services.
Some proofs: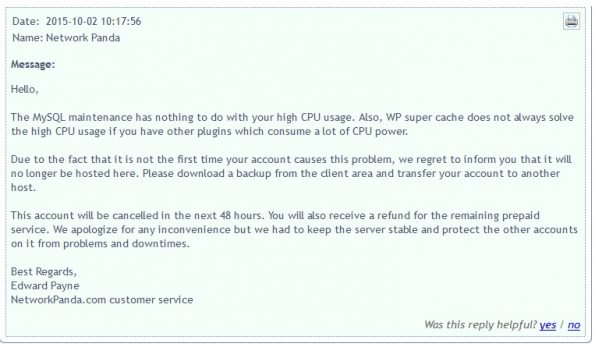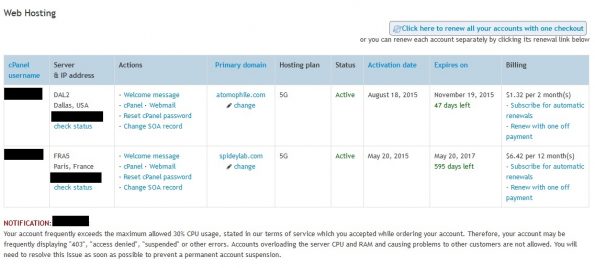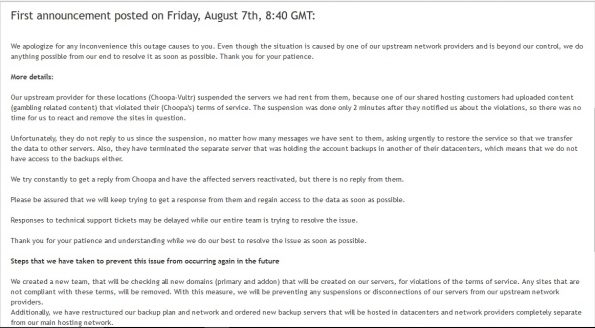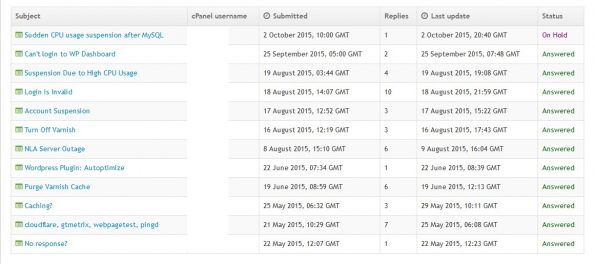 Uptime/Performance Reports: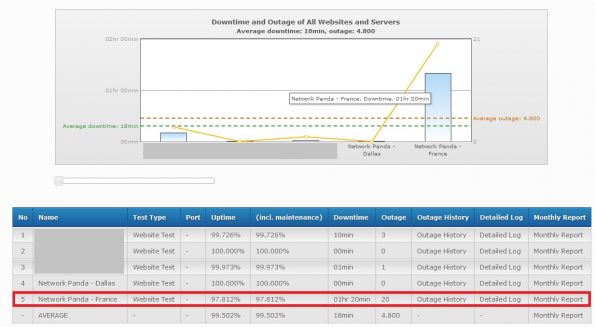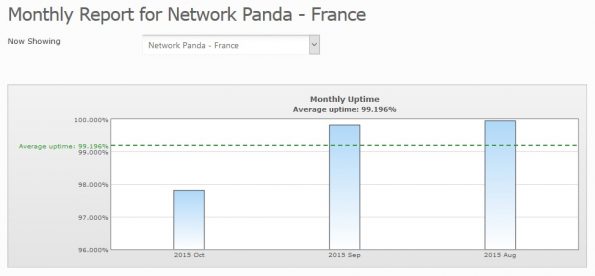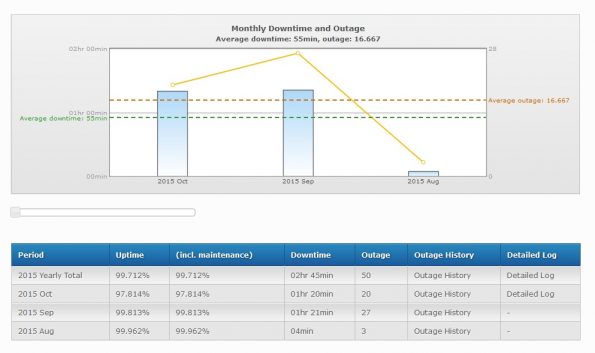 Read about: Network Panda Server Outage.