Two weeks ago, Lazada Philippines formally launched a new service called "Mobile Recharge". This is the newest offering from the leading online shopping company here in the Philippines. As prove by this initiative, Lazada wanted to expand the "effortless" motive for customers to enjoy, introducing a effortless loading in seconds!
Only Smart, TNT and Sun Cellular load (also at 10% discount) is available during the first two weeks of the service. Not until yesterday (May 18) that Globe load is already available too. Original article: How to Buy Smart, Sun and TNT Load from Lazada Philippines
How to Buy Globe Load in Lazada
Of course, I tried the service again immediately. And as expected, the load amount was received and credited immediately upon payment, just like the first time I did it.  To load via Lazada for your Globe load and/or Smart, TNT, and Sun Cellular as well, follow these steps:
Step 1. Go to Mobile Recharge Page
Go to mobile recharge page here: http://www.lazada.com.ph/mobilerecharge/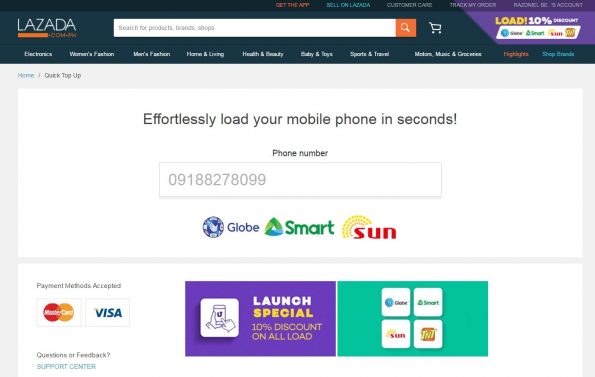 Step 2. Type in your mobile number
Type your phone number on the text box provided. The system will automatically detect your network. If it isn't, click your correct network.
 Step 3. Choose Load Denomination
Choose your load denomination or surf promo and click "Load Now". As of the moment, everything is offered at 10% discount. I hope this will stay the same!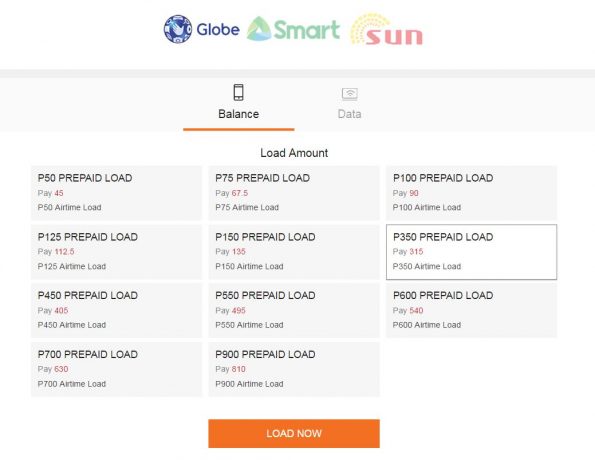 Step 4. Proceed to Payment
Pay using your credit or debit card. There are no any other payment options available as of this moment. You can also use your PayMaya card or any virtual prepaid card as long as it has the Mastercard or Visa Logo on it.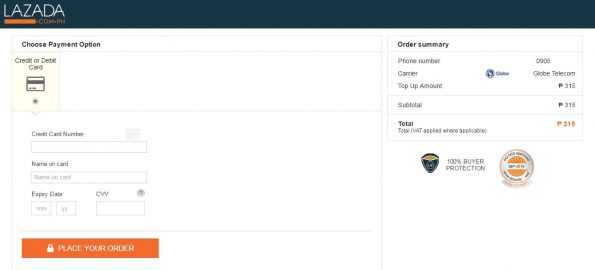 If your bank/credit card has implemented OTP, you will be required to input the One-Time-Pin on the next window before payment will proceed. OTP will be sent to the mobile number you gave to your bank.
Step 5. Top-up Successful
Upon payment, load credits will be sent to your mobile number. The transaction will be filed with an order number in your Lazada account, if you have one.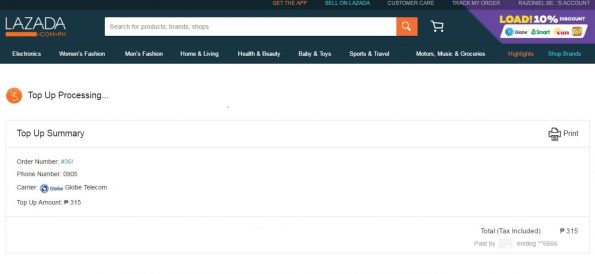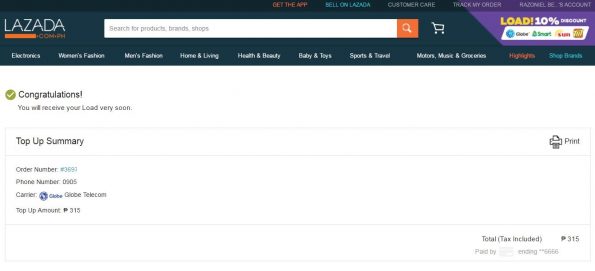 That's it! Easy and effortless loading, huh.