This post will guide you step by step on how to apply for the Civil Service Exam or also known as Career Service Eligibility (CSE) in the Philippines. The complete requirements, qualifications, tips on how to have easy application are tackled below. I will be stating all the resources and facts as I can.
---
Updates:
October 2018. Updated Civil Service examination schedules for 2019.
---
2019 Examination Schedule
View 2019 Civil Service Exam Schedule
2017 & 2018 Examination Results
CSE-Online Results
Check your individual ratings using this online tool: CSE-Online Result Generation (OCSERGS)
---
The Story
I'd been hesitant on applying for Career Service Eligibility. Maybe because I am on the hope of passing the board examination last year. This time, I am not taking the risk again and there's no harm if I will apply for both examinations. The PRC Board Examination for Chemistry will be held this September 15-16, 2015 while the CSC Career Service Eligibility (CSE) Examination is scheduled on October 18, 2015. I am not negative that I will  fail the board exam (I will pass!) but this is a better plan than do achieve nothing this year.
Story Update: I am able to pass the the two examinations. I am now a Career Service Eligible and a Chemist too! :-D. Read my experience about taking the board exam here: Blog Comeback: Chemist Board Licensure Examination.
Note: If you already passed a board examination held by the Professional Regulation Commission (PRC), there is no need for you to take the civil service exam as you are already more than qualified to occupy a government position. This is stated on Philippine Republic Act 1080. If you graduated from a non-board course, you should take the exam otherwise.
What is Civil Service / CAREER SERVICE Eligibility?
This eligibility allows anyone to hold a position in the government regardless of educational attainment. Of course, those who have higher credentials will get a higher position. This eligibility is just like a key for the door of government service. A "ticket to get in". We are not talking about oversold tickets here but basically, this is the first step to have a chance to get hired and be a permanent employee in a government agency. If you know what I mean, you should know someone inside to get through (But not always the case!).
Benefits of a CSE Passer
Let us cite an example. Let us say you are currently working in a government agency as a contractual employee. If you passed the CSE Exam, the chance of you being a permanent employee will get higher. However, your performance will still be the gauge whether you qualify to be a permanent employee. So far, this is the only benefit of being a CSE passer aside from being proud of yourself that you passed the exam that only 20% of takers per year were able to get through it. You then have a high IQ perhaps?
Types and Frequency of Examination
The examination is given in two types: CSE Professional and CSE Subprofessional (CSC-PPT). Both of the exams are held twice a year. Usually, in the months of May and October. A special computer assisted test (CSC-CAT) is administered in the CSC Central Office.
Note: The application is conducted on a first come first served basis. CSC may close the application once the quota for a certain testing center is met. Taking the examination does not have any limit. You can take it unlimited times until you passed.
Scope of Examination
CSE Professional: vocabulary, grammar and

correct usage

, paragraph organization,

reading comprehension

, analogy, logic, and numerical reasoning (In English and Filipino language)
CSE Subprofessional: vocabulary, grammar and correct usage, paragraph organization, reading comprehension, clerical operations, and numerical reasoning (In English and Filipino language)
Both levels have general information questions regarding the Philippine Constitution, R.A 6713 (Code of Conduct and Ethical Standards for Public Officials and Employees), Peace and Human Right concepts and issues, Environment Management and Protection.
CSE Professional vs CSE Subprofessional
CSE Professional examination has an additional analogy and logic questions while CSE Subprofessional has clerical operation questions.
The Professional exam consists 170 items that should be answered within three hours (3 hours) while Subprofessional consists 165 items answerable within two and a half hour (2 1/2 hours).
You can get higher position with CSE professional while Subprofessional is only applicable for clerical positions.
Where to Apply
You can submit your application form or apply at the Civil Service Commission Regional Office or Field Office near you. The field office is usually located inside or near the Capitol's office of your province or your Region's Government Center. It should be easy to look for it since government offices are usually located in the same block.
Note: The Central Office does not accept civil service exam applications.
Qualification Requirements
Both examinations are open to every Filipino citizen regardless of educational attainment. It doesn't matter if you are an elementary, high school, technical course or college graduate. You are eligible in taking the exam.
The applicant should be at least 18 years old at the time of application.
No criminal record, haven't convicted by final judgment of an offense or crime.
Have not been dishonorably discharged from military service.
Have not taken the same level of examination in the last three months (3 months).
APPLICATION REQUIREMENTS
I guess you had already decided to apply after reading the civil service exam facts above. The following are the complete requirements for application:
 1. Fully accomplished application form (CS Form 100).
The spaces for signature over printed name and thumbmark should be filled in front of a CSC processor. You may opt to fill up the form inside the CSC premises as they will further guide you on how to fill it up correctly. Download CS Form 100_Revised September 2016.
 2. Four (4) copies of Identical Philippine Passport size ID photo.
Taken within the past three (3) months.
Philippine Passport Size (3.5 cm x 4.5 cm or 1.4 inches x 1.8 inches, width x height)
Handwritten nametag (not computer generated and should be held by the applicant). Recommended size of the nametag is 2 to 2.5 inches x 12 inches (width x height).
The nametag should contain the full name of the applicant in this format: First Name Middle Initial Last Name. Signature should be placed right above the applicant's name.

In standard close-up shot, full face view facing the camera (from shoulder level up with the head and face occupying at least 80% of the picture and with the name tag positioned at approximately 1 inch or 2.54 cm below the chin)

In bare face, neutral facial expression (no smiling and both eyes open), showing left and right ears (with no eyeglasses or any accessories that may cover the facial features)

Colored with white background and printed in quality photo paper.
Note: The name tag should be held by the applicant 1 inch or 2.4 centimeter below the chin in the actual shot or 0.3 to 0.5 centimeter distance from the chin to the nametag in the printed photo.
 3. Original and photocopy of a valid ID
Original and photocopy of a valid ID containing the applicant's clear picture, complete name, gender, date of birth, signature and signature of the head of the issuing agency. Valid IDs are the following:
Driver's License (LTO Student Permit is not accepted)
SSS ID
GSIS ID
Philhealth ID
Voter's ID
Company ID (current)
Student/School ID (current and validated within the date of application)
Postal ID
BIR ID
Barangay ID
Valid Passport
Police Clearance (NBI clearance is not accepted)
Note: Any other ID not included in the list is not accepted. The ID should not contain any alterations or unreadable information. For identification cards that lacks information especially the date of birth, a NSO Birth Certificate or an authenticated birth certificate from Local Registrar is required. The original and photocopy of the birth certificate should be presented for validation purposes. All of the original documents shall be returned to the applicant.
 4. Copy of Appointment Letter
Copy of appointment letter received by the application through email (for Computer Assisted Test only)
 5. Examination Fee
Examination Fee of P500 for CSE Professional and Subprofessional; P600 for CSE CAT.
Tips and Reminders
Civil Service Commission is quite strict in their requirements. Don't tend to argue and insist what you want especially in the photo you are submitting to them. You should strictly follow all the specification stated in no. 2. For you to easily picture the correct "picture" you will submit, check these images from the CSC website: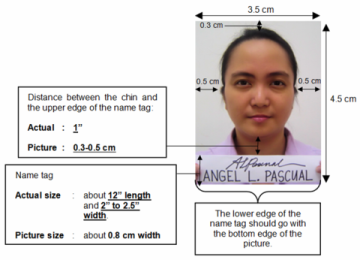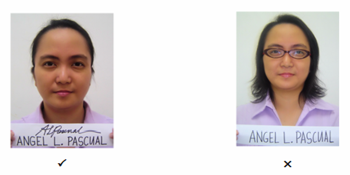 I advised you to follow and complete all the requirements before going to a CSC office. It is a great way for you to say time and avoid any hassle rushing for a correct photo or photocopy of a supporting document (birth certificate). Applying for the examination is easy. Also, apply early for you to have enough time to review and relax before the examination date.
Once the application is accepted, the processor will give you your official receipt, examination slip and possibly a guide map to the testing center you are assigned. In some case however, the room/seat number will be provided 5 days before the examination date (You will be going to the CSC office personally again to get your room/seat number).
Things to Bring During the Civil Service Exam
Application official receipt (OR) and examination slip
Valid ID/IDs (The same ID you presented during application is recommended)
Mongol No 1. or 2 lead pencil(s)
Eraser
Black ballpen
Note: Calculators are not allowed.
Also, bring a bottled water since we do not know when or if we need to get a few sip during the examination.
Examination Results
You need to have at least 80% of the questions answered correctly to pass the civil service exam. Roughly, this translates to 136 correct answers out of 170.
1. CSE-PPT (Paper and Pencil Test)
The following apply for both Professional and Subprofessional Level:
Results are usually released forty-five (45) days after the examination. The name of passers shall be posted in CSC website.
Those who passed the examination must personally claim their Certificate of Eligibility at the CSC Regional Office/Field Office upon presentation of required documents. On the other hand, those who failed the examination may secure a copy of their Report of Rating through the CSC website.

No Report of Rating shall be mailed to those who failed. To secure a copy of the Report of Rating, an examinee must key in his/her name, date of birth, examinee number, examination date, and examination type. Thus, examinees are advised to safe keep or remember their examinee number until receipt of the examination result.
2. CSE-CAT (Computer Assisted Test)/CSE-COMEX
Results of the CSE-CAT/CSE-COMEX are usually released within two to three hours after the examination. Examinees are strongly advised to wait for the examination results. Those who passed shall receive their Certificate of Eligibility, while those who failed shall receive their Report of Rating. Should an examinee fail to claim/receive his/her examination result on the examination day, he/she has to personally return at a later date to claim either his/her Certificate of Eligibility or Report of Rating.
The names of passers of the CSE-CAT examinees are posted at the CSC website by clicking the following link: Online CSE-CAT Result Generation System. A copy of the Notice of Rating (for passers) may also be secured online. However, the Notice of Rating does not in any way replace the Certificate of Eligibility.
Meanwhile, a copy of the Report of Rating of examinees who failed the examinations may also be secured through the CSC website. To secure a copy of the Report of Rating, an examinee must key in his/her name, date of birth, examinee number, examination date, and examination type.
God bless to all of us who will take the civil service exam! 🙂